From humble beginnings, we started EPT taking photos throughout Blackpool's night life, then we were offered the opportunity to branch into visitor attractions by partnering with Blackpool Tower
Our partnership started with us doing fantasy photos using green screen, the guests would dress up and we would transport them to enchanted places. We then started doing dinosaur backgrounds as the area to fit with the Dino world theming. Our high energy and passion for creating fun photo experiences caught the attention of Louis Tussauds (now Madame Tussauds) and in 2015 we became partners operating the King Kong Photo Op.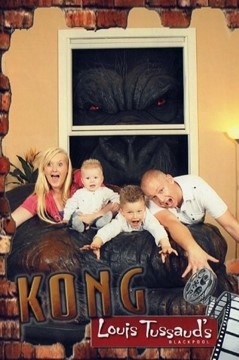 In 2008 Blackpool began its regeneration to transform the seaside resort back into a family friendly tourist attraction, along came Merlin Entertainments to support this by taking over the operation of the aquarium, Louis Tussauds and Blackpool Tower and transformed them into the big brand attractions everyone knows, Sea Life, Madam Tussauds, Eye Experience and The Dungeons. This was a challenging time for EPT as we were a small unknown provider who just wanted the chance to prove ourselves against other well established visitor attraction photography providers. Thankfully our passion and performance in Louis Tussauds and the Tower convinced Merlin that partnering with us would be beneficial to all parties.
Within 12 months of operating in the Blackpool attractions we were asked to tender for a further 9 attractions across the UK. We were successful and this was the turning point in transforming EPT from a small family run business in Blackpool to a UK wide company competing at the same level as world-wide organisations. The quick growth could have easily resulted in us losing our identity however thanks to our amazing team we have stayed a family operated, passionate organisation and our commitment to provide the best memorable experience to each guest is still the same today as it was in 2003 when we started out.
Fast forward ten years and we now operate in over 20 visitor attractions across the UK and US with many iconic brands such as ITV, Merlin Entertainments and Cadburys, and operate some of the largest seasonal events including Santas Grottos, Halloween Festivals and other large events